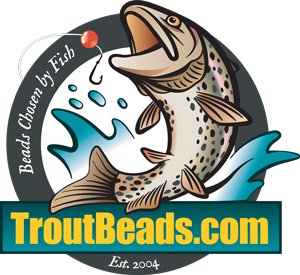 Welcome to the TroutBeads Website and Online Store
At TroutBeads we focus on re-creating the true colors and size of the fish eggs found drifting in your local waters. We've also developed a large selection of attractor colors to be used for crawler harnesses, trolling flies, Spin Glo rigs, and lure building.
As you view this site and read the How To's and Testimonials, you'll learn that matching TroutBeads to the egg drifting in the rivers is the most effective egg fishing technique ever developed. It's been a tightly guarded secret in many areas. But, all good things eventually come to light.
Fishing is a process of outwitting your prey…
…with creations that most imitate what fish are feeding on at a specific time of year. Matching exactly what fish are looking for, will magnify your fishing experience during spawns and when fish are seeking only eggs. All the eggs they see are SINGLE… drifting along the bottom of the stream one at a time. NOT in clusters. Salmon, Trout and Steelhead do not spawn in clusters. You will occasionally see two and sometimes three eggs sticking together but the vast majority are singles.
TroutBeads also have the same neutral buoyancy as natural fish eggs, which is another reason (besides color) that make this technique so effective. From the East coast to the West coast… Salmon, Trout and Steelhead guides have counted on TroutBeads egg matching colors to maximize catch rates when fish are chasing eggs.
…See you on the water!
Start Shopping
If your interested in a professional fishing guide that can help you get the most out of your beads:
Fishing Guide Directory
Our products can also be found in several local shops around the country. Find your local source:
Distributors & Dealers
Testimonials
"I had the privilege to see my buddy using your trout beads last weekend up at the Fontanelle. Every other cast he made, he caught fish. I finally had to suck up my pride and ask him to tie your trout bead on my line. And then, it was that simple, my second cast I caught fish and continued to do so the rest of the day."
"The products you sell are excellent...I use your hooks that perform flawlessly and many colors and styles of beads. Any time I'm on the water I'm sure to tell other anglers that I am specifically using the TroutBeads brand and I spread the word! Keep up the good work!"
"I started using TroutBeads this year and caught a MONSTER fish. Four of us went and all we used were TroutBeads. These beads ROCK!"
"I love your products, and your great service!"
"Five fish in two hours without rebaiting every cast made a believer out of me especially since I didn't see another fish caught!"
"Fished the Salmon River in Idaho this spring. Did exceptionally well on your size 10 - 14mm beads. I've used them the last 10 years and they haven't let me down. Just can't beat them. FISH ON."
"Fished your beads for the first time in Western NY. Caught three Browns, one Rainbow and three Suckers. Almost all were on Orange Glow, smaller size. I'm hooked!"
"Your beads are like aspirin and band aids. Everyone needs them!"
"TroutBeads are like laser guided golf balls."